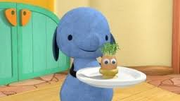 Amma is Sula's carer. She is warm, big-hearted and good at taking charge. Amma runs the creche and park cafe which the show's child characters sometimes visit.
Amma is a small blue elephant. like Flop she has a triangular body but hers is shorter and wider. her trunk is quite short for an elephant, she has fairly long ears. she has short legs and long arms.
other information
Edit
Friends and Family
she is sula's guardian (possibly mother). she seems to be friends, in some way, with Sula's friends, Bing (character) and Pando. she also seems to be friends with Flop and Padget.
Community content is available under
CC-BY-SA
unless otherwise noted.